About once per month, I publish a photo essay that showcases a particular place or theme from my travels.
I often write about the importance of creating things, choosing to be a "maker" and contributing to the world around you (see here, here, and here). Photography is one way for me to put those ideas into practice. I firmly believe that creating and exploring aren't merely artistic choices, but also healthy life choices. Seeking adventure and creating pictures is a way for me to practice what I preach.
With that said, all of the images below were shot with a Canon 6D and a Canon 40mm f/2.8 lens. This is a new camera and lens setup for me — and I loved them both. I'm planning to use them exclusively going forward.
The images in this photo essay are from Chefchaouen, Morocco. As always, all photos are my own.

Chefchaouen, Morocco Photos
Hidden deep within the Rif Mountains of the Northwest Morocco is a small, quiet city called Chefchaouen. This sleepy mountain village was one of my favorite areas in the entire country.
The men wander the streets in long robes with pointed hoods known as jellabas. Jellabas are usually made from wool and definitely qualify as legit mountain outerwear. Locals wear them in the rain, the wind, the sun — you name it.
The women make handmade Moroccan rugs and carpets using wool, camel hair, cactus fiber, and natural dyes from the surrounding mountains.
The ancient part of Chefchaouen, known as the medina, is covered in all shades of blue paint. You'll find blue spreading across the streets, the walls, and even inside the homes on nearly every street and alleyway. It's not hard to figure out why Chefchaouen is often called "The Blue Pearl of Morocco."
Bright-colored pigments are used to create paints of all shades and locals scoop out whatever color they need from bags and sacks in the shops and squares around town. The blue colors that cover the entire city originally came from these bags of pigment.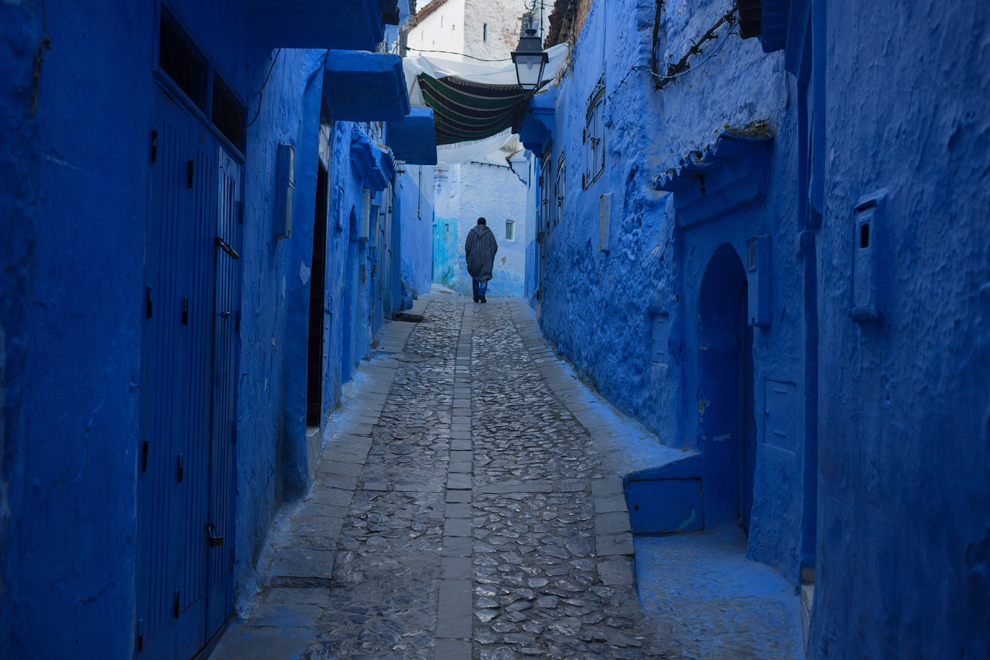 Want more? You can browse the full gallery of images from Morocco here.