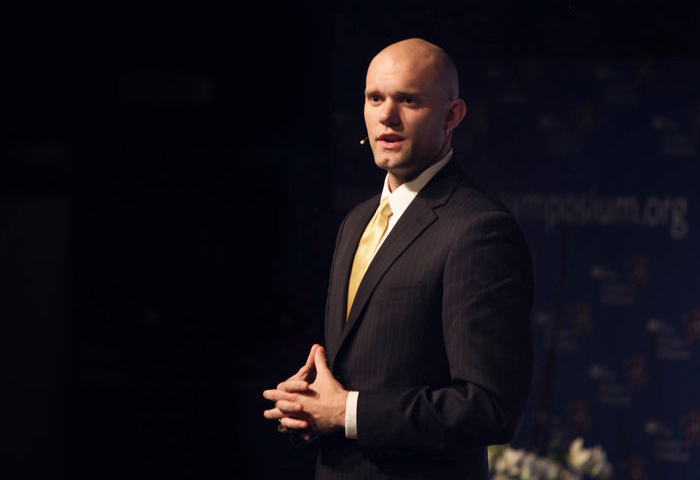 Hi there. I'm James Clear and this website is the home of my life's work. On this site, you can find my writing, my photography, my books, and more.
My work covers a variety of topics, but the central idea that ties it all together is simple: If you can master your habits, you can master your life.
I believe that mastering your habits is at the core of living healthier, happier, and better. I believe that small choices and tiny habits shape our lives. For that reason, I write about the science of behavior change and habit formation.
I know this information is important and so I strive to set an incredibly high standard for my work. As a writer, my articles are routinely syndicated by major media outlets like Business Insider, Entrepreneur Magazine, The Huffington Post, and many others. As a photographer, I was selected as a finalist for the 2012 Travel Photographer of the Year Award. As an athlete, I was selected to the 2008 ESPN Academic All-America baseball team. I have made a lot of mistakes and I have a lot to learn, but you can trust that no matter what I put my name on, I am working hard to do my best at it.
I am committed to making these ideas available to everyone, regardless of location, background, or socioeconomic status. For that reason, I have chosen to give away 90 percent of my work for free. Most notably, readers seem to enjoy my popular weekly newsletter.
Over 100,000 people received my free newsletter each week. Click here to sign up.
For those who want step-by-step instruction, I offer low-priced, highly accessible classes on specific topics like how to build habits that stick. (You can view all of my classes here.)
What's the story behind all this? How did we get here? And why am I the right person to write about these topics?
Well, let me tell you.
Who Am I and What Am I Here For?
The best thing a human being can do is to help another human being know more.
—Charlie Munger
My work is focused on a simple idea: I want to share practical ideas and proven research that helps you master your habits, optimize your performance, and take control of your health and happiness. I don't claim to have all the answers and I still have a lot to learn, but I'm happy to share what I've learned along the way.
I believe that the world would be a better place if we had more people who were athletes, entrepreneurs, and artists. In other words, I believe that the world would be a better place if we had more people who were putting their sweat, their work, and their vision out into the world.
But I'm not the only one you'll find on this little site. We've built an incredible community of people who care about living well and doing good — and you're welcome to become a part of it.
My hope is that people who take pride in their craft, people who have a passion for adventure, and people who have a desire to contribute and create will come here to share in my journey, challenge my ideas, and offer their own thoughts to a community that cares about doing work that matters.
If you'd like to join our little community and learn how to master your habits in health and in life, then enter your email address below and click "Get Updates!"
My Values
These are the values that drive my work and my life.
Growth (Learning, Adventure, and Taking Action)
Am I learning and improving? Am I seeking adventure and exploration?
Am I setting a higher standard in my work and my life?
Am I taking action on the things that are important to me?
Self-Respect (Authenticity, Balance, Happiness)
Am I living a balanced life?
Am I living authentically?
Am I giving myself permission to be happy with who I am right now?
Servant Leadership (Community, Happiness, Responsibility)
Am I bringing people together?
Am I making the world a happier place?
Am I empowering others to be leaders and tell their own story?
Am I someone others can count on? Am I reliable and dependable?
Testimonials
I don't ask for testimonials, so all of the quotes below came from emails that nice readers sent to me of their own accord. I hope you'll find my work as useful as they did and join the free weekly newsletter.
Your articles are by far the best I've found on the internet. I've actually unsubscribed from most others now (some can be very repetitive), but I really enjoy your varied subjects. Keep up the good work.
—Martin H. from Bristol, United Kingdom

Our net profit has doubled in the last year since I started reading your articles. I give all my staff a paid half hour off twice a week to read your work. Thank you!
—Paul D. from Auckland, New Zealand

I love your blog and newsletter. I can't tell you how many times I've subscribed to newsletters in the past only to get the content for a few months and then unsubscribe because I feel like the content is clogging up my inbox. Your stuff is different. I'm not sure how you do it but every time I get something from you it's exactly what I need at the time.
—Miles C. from Missoula, Montana

I've been online since 1995. With thousands of newsletters available, I only subscribe to one. Yours. That's how much I enjoy your topics and writing style. You definitely add value with each email that comes my way. Keep up the great work.
—Thales P. from Nicosia, Cyprus

In all honesty, of all the newsletter postings I'm subscribed to — yours and maybe one other are the only ones I religiously read and look forward to. Thank you again.
—Brian V. from Jacksonville, FL

As a small business owner I like to know when I hit the mark (which is less often than I'd like). You hit it out on a regular basis. Kudos. As a single mom with 2 kids, 2 dogs, and 43 employees I always appreciate some James Clear and a glass of vino after a long day. Keep up the great work.
—Carrie K. from Dallas, Texas

The only reason I still have data on my phone is so I can access your updates as soon as they come out when I'm at work on Mondays and Thursdays.
—Andrew S. from Toronto, Canada

I've enjoyed reading every newsletter you've sent out since I signed up for them. I pretty well drop whatever I'm doing to digest your message as soon as it appears in my inbox. Thank you, James!
—Jon K. from Singapore

Gotta say, I get a shit load of emails from blogs and writers every day. Honestly, I delete most of them. But whenever I see James Clear pop up in my email, I always stop what I'm doing it and read it a couple times. Thanks for the extra boost. Keep it up man.
—Nate H. from Milwaukee, WI

Thanks for your writing and your ideas. There's a ton of self–help stuff out there and not much of it is as clear and actionable as yours.
—Jennifer M. from Oregon

I was cleaning my inbox today, and unsubscribing from lots of newsletters, and I realized yours is the only one I never once considered unsubscribing from! You're constantly and consistently a source of inspiration, and the information you provide is helping me start to make changes in my life — slowly, but surely!
—Amanda L. from Ontario, Canada

Just wanted to say that you are by far my favorite person online (and I subscribe to a ton of people, trust me). Your articles always hit home though and are very well well-written. Love every single one of em. You've earned my trust for sure. If you ever put out a book, let me know and I'll buy it, leave a positive review, spread the word, mail out to my lists, etc. Thanks for all that you do man, keep it up!
—Ralph H. from Portland, OR

I subscribe to a number of blogs and there's something really special about yours. Before I've even open your email I smile, it brings joy to me knowing that it will be great; always something that I can learn from and build upon. James, you are an inspired writer and so incredibly humble and unpretentious. Keep being amazing.
—Kathryn D. from Hatton Vale, Australia

You continue to bring great value with each and every email. You are a man among men.
—Tom F. from Aliso Viejo, CA

Hey James, This is the first time I've reached out to someone like this, but it's also the first time I have felt compelled to do so. The day I first stumbled onto one of your posts is a day I will look back upon with fondness for years to come. Every Monday and Thursday is a treat. I see your email pop up on my Google Notifier and I instantly open it up and read it. This is the first blog I've ever had the patience and motivation to read on an ongoing basis. All of your articles are spot-on, to the point, and make me better for having taken the time to read it. Thank you. Keep writing.
—Neal O. from Vancouver, Canada

Just recommended your blog to a good friend of mine and I wanted to share the recommendation I sent him with you: "You gotta check this guy out. I stumbled upon his stuff at some point and signed up for him to email me regularly. Usually when I sign up for these I get sick of the guy after a few months. His writing is solid though. There have been more points he's made that have triggered the feeling of: "Wow, I've been mulling that principle in my mind for weeks / months but have never heard it articulated so well. What a good writer."
—Billy H. from Lexington, KY

If you sold "I heart James Clear" t-shirts, I'd buy one and wear it. Elegant and simple messages that resonate. Love your work, keep it up.
—Laurence W. from Sydney, Australia

I don't know how best to articulate this, but your articles are absolutely unbelievable. Particularly the one about motion vs action — it's something I've been trying to articulate to myself for my entire life, no exaggeration. I'm sure you get this all the time, but it's literally reshaped my life instantly. In the past four days, my productivity has completely shifted into overdrive with "action" oriented thinking.
—Alfredo G. from New York, New York

I just discovered your blog and had to subscribe. It's like the best advice of Paul Chek, Stephen Covey, and Seth Godin all in one place … plus amazing photos from around the world.
—Chris B. from Denver, Colorado

Just wanted to say that I love your blog posts. One of the few things in my inbox I always read, and truly value.
—Rachael K. from San Francisco, CA

I really can't thank you enough. Your posts (and interviews) about positive habit building have helped me change many aspects of my life that were slowing down my growth.
—Jake J. from California

Thank you so much for your wonderful newsletters and inspiring messages. Everything in life stops when I get your emails!
—Mary B. from Missouri

Just wanted to say that I enjoy your articles and read every one. They are informative and give me that extra inspirational push in pursuing my goals. Thank you and I look forward to reading the next one.
—Rita from California

I look forward to all your emails! Your posts often relate not only to one area, but to many areas in my life. I feel like I have more balance now that I have been implementing many of the small life changes you talk about.
—Elizabeth H. from Germany

Your words are the first thing that have really resonated with me and made me feel optimistic about my health journey.
—Mary S. from Denver, Colorado

James, I recently came across your articles and immediately became a big fan. Your writing is articulate, provocative and inspirational. I admire you for the path you have chosen, the message you share and the sheer volume of valuable output.
—Ed G. from Sacramento, CA
Like what they have to say? I'd love to have you join our community as well.
Just enter your email below and click "Get Updates!"