The Book in Three Sentences
Steve Martin was one of the most successful comedians of his generation. In his words, his career involved "10 years spent learning, 4 years spent refining, and 4 years spent in wild success." This fantastic book provided beautiful insights not only into the details of his comedy act, but also into his early life and career development.
Born Standing Up summary
This is my book summary of Born Standing Up by Steve Martin. My notes are informal and often contain quotes from the book as well as my own thoughts. This summary also includes key lessons and important passages from the book.
Martin did stand up for 18 years. In his words, "10 years spent learning, 4 years spent refining, and 4 years spent in wild success."
Darkness is essential for stand up success. Audiences don't laugh when they are in the light.
All entertainment is, or is about to be, old fashioned. There is always room for something new.
Perseverance is a great substitute for talent.
Practice, practice, practice. The early years of Martin's career were poor and unsexy, but they were filled with tons of practice. It was by performing his routines in public five or six times per day and by constantly adapting material from friends that he developed stage confidence and a unique routine.
He is the definition of The Helsinki Bus Station Theory. So many of his acts started as something learned from a friend or adapted from a coworker. Eventually, he stayed on the bus long enough to transform what he learned into his own routine.
It is fascinating how he slowly expanded his shoe length with each gig. His early jobs were short routines or magic tricks of a few minutes. Then he did a five minute skit or a ten minute show at a club. Then he took on a twenty minute gig and even added in three poems to read just to add enough length. It's an awesome example of taking on just manageable difficulties.
Martin began as a magician but discovered that what he loved was not magic, but performance. That's when he set his sights on becoming a comedian.
It wasn't until college that Martin realized he needed to come up with entirely original content.
"Through the years, I have learned that there is no harm in charging oneself up with delusions between moments of valid inspiration."
Any new philosophy, even if wrong in some respects, is good for creativity.
Teaching people, whether in a classroom or otherwise, is a form of show business.
It is interesting how Martin is convinced the success of his comedy act was largely dependent on the current events of the time (his act balanced the seriousness of the Vietnam War, in particular). On the one hand, I think he undersells himself as a comedian. I'm confident he could be funny in any era. On the other hand, I appreciate his acknowledgement of luck and timing in his success.
Never let the audience know you are bombing. "This is funny, you just haven't gotten it yet." Keep going even if the laughs aren't coming. For eight years he tried this routine and it didn't work well.
One piece of feedback said he was, "The most serious booking error in the history of Los Angeles music."
His agent told Martin to "stick to writing" because his performance was not going to work.
"I had never really imagined success, I was just trying to be a performer."
Martin gave himself a deadline for success. He would be a performer until he was 30 and then had to figure out something else to do.
Martin doesn't brag about his relationships with a variety of women, but one thing is pretty clear: women love men who are funny.
"It was easy to be great. Every entertainer has a night when everything is clicking. These nights are accidental and statistical. Like lucky cards in poker, you can count on them occurring over time. What was hard was to be good. Consistently good. Night after night. No matter what the abominable circumstances."
"As I continued to work, my material grew. I came up with odd little gags, such as, "How many people have never raised their hands before?" I was now capable of doing two different 25-minute sets per evening in case some of the audience stayed for the second show."
"Because I was generally unknown, in the smaller venues I was free to gamble with material."
"My act was becoming simultaneously smart and stupid."
By his late 20s, Martin had reached a point where he was a successful opening act and would appear on televisions shows (including The Tonight Show) on a routine basis, but he was never opening. He realized that the audience never came for the opening act. People only cared about the headliner. And so, he set a rule to only headline and never open. Within a year, he was completely broke.
Even after being on The Tonight Show and starting to headline a few clubs (but without any mainstream success), Martin wrote in his journal, "My new material is hopelessly poor. My act is simply not good enough. It's not even bad." It is fascinating to see such a successful creator struggle with his work.
After 12 years of performing, he finally reached the point where he could afford to only do one show per night rather than three, four, or five shows per night scattered across town.
Right after Martin became famous, he was driving through Beverly Hills with his mother and said, "Get out and walk down the street so I can watch people look at you."
His first album sold 1.5 million copies in 1977.
At his peak, Martin's tour schedule was insane. 60 cities in 63 days. 72 in 80 days. 85 cities in 90 days. 18,695 people attended one show in Ohio. 45,000 tickets sold for his show in New York.
He became the biggest concert comedian in show business, ever.
Small insight: during his rise to fame Martin was always surprised by the size of his crowds. One possible interpretation was that he was relatively unaware of how many people each venue could hold, which meant he didn't handle the booking and business side of things. This seems obvious, but it is a critical point: he was 100 percent focused on his craft.
Once he achieved peak success, he struggled with trying new material and experimentation. In his words, "This was no longer an experiment. I felt a huge responsibility not to let people down. Arenas of 20,000 and three day gigs of 45,000 were no place to try new material."
By 1979, he was already booked for the next two years.
Martin became so famous that he couldn't go outside without tons of hoopla and, interestingly, his romantic life vanished. He couldn't interact with people in a normal way and just spent his time shuttling from show to hotel room and back. He went into a depression. "This was the loneliest period of my life."
During the height of his fame, Martin would have people chase him down on the highway, drive their car with one hand while waving the other out the window and screaming, "I'm a wild and crazy guy!" in reference to his Saturday Night Life bit.
There is definitely a point where you can become too popular. Your daily life is hindered. Your relationships suffer. People struggle to understand your troubles. Celebrity has its drawbacks.
Martin toured for five straight years with sold out venues. "Then, I saw something in the back I hadn't seen in years. Empty seats."
"If you have anything to work out with your parents, do it now. One day it will be too late."
I agree with Martin that it is not your job to judge the success of your own work: "I do not know if my act holds up all these years later. It is not for me to decide or even think about."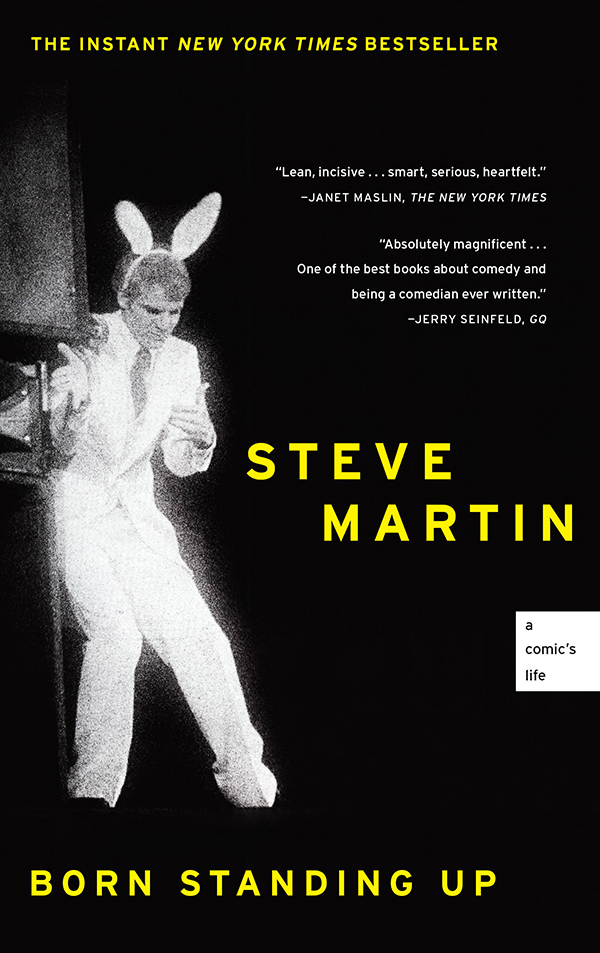 Born Standing Up by Steve Martin