What is Minimalism?
Let's define minimalism.
"Minimalism is not a lack of something. It's simply the perfect amount of something."

-Nicholas Burroughs
Minimalism is about more than just possessions, though.  Minimalism is focusing on and committing to the fundamentals, instead of wasting time, money, or energy on details.
Committing to the basics and mastering the fundamentals can be hard, though.
In the words of my friend, Corbett Barr, people waste too much time debating edge cases. Edge cases are the what-ifs, the could-bes, the minor details — the things that might make a 2 percent difference, but mostly distract you from the real work that would make 80 percent of the difference.
When you eliminate everything that is unnecessary, there are no details to hide behind. You're left with just the basics and whether or not you have mastered them.
As you'll see throughout this guide, a minimalistic approach can be applied to consumption, goals, schedules, tasks, design, and much more.
Why We Want Things We Don't Need
I want to tell you about something called The Diderot Effect to help explain why we want things we don't need.
The Diderot Effect states that obtaining a new possession often creates a spiral of consumption which leads you to acquire more new things. As a result, we end up buying things that our previous selves never needed to feel happy or fulfilled.
The effect is named for Denis Diderot, the co-founder and writer of Encyclopédie, who experienced a large windfall of wealth after living nearly his entire life in poverty. Shortly after, Diderot acquired a new scarlet robe. That's when everything went wrong. 1
Diderot's scarlet robe was beautiful. So beautiful, in fact, that he immediately noticed how out of place it seemed when surrounded by the rest of his common possessions. He soon felt the urge to buy some new things to match the beauty of his robe. 2
He replaced his old rug with a new one from Damascus. He decorated his home with beautiful sculptures and a better kitchen table. He bought a new mirror to place above the mantle and his "straw chair was relegated to the antechamber by a leather chair."
These reactive purchases have become known as the Diderot Effect.
You can spot similar behaviors in many other areas of life:
You buy a new dress and now you have to get shoes and earrings to match.
You buy a CrossFit membership and soon you're paying for foam rollers, knee sleeves, wrist wraps, and paleo meal plans.
You buy your kid an American Girl doll and find yourself purchasing more accessories than you ever knew existed for dolls.
You buy a new couch and suddenly you're questioning the layout of your entire living room. Those chairs? That coffee table? That rug? They all gotta go.
Life has a natural tendency to become filled with more. We are rarely looking to downgrade, to simplify, to eliminate, to reduce. Our natural inclination is always to accumulate, to add, to upgrade, and to build upon.
Why Minimalism?
Not only will minimalism save you time, money, and resources, it's also an important ingredient for success. If you want to be more productive, more focused, more creative, and exercise better willpower, it's essential that you absorb the principles of minimalism.
People often say that they want options. When it comes to getting things done, however, options aren't always a good thing. When everything is a possibility, it actually becomes harder to make the right choice (or any choice at all). This is the paradox of choice.
Meanwhile, when we place a constraint on ourselves, it can become much easier to get something done.
How Minimalism Will Help You Do More
The simplest way to get better is to eliminate your distractions.
Want your software program to run faster? Delete every line of code that isn't essential.
Want to get stronger arms? Stop wasting energy on unrelated exercises.
Want more people to read your blog? Stop distracting them with ads, buttons, and widgets.
These choices have nothing to do with gaining new skills. They are simply about eliminating the things that are distracting from the essential. Learning to ignore, reduce, and remove the inessential choices can be just as beneficial as teaching yourself to make better ones.
Let's look at a few examples.
Example No. 1: George R.R. Martin's Minimalist Writing Strategy
George R.R. Martin is the best-selling author of the fantasy series A Song of Ice and Fire. The first book in the series, A Game of Thrones, has also been turned into a blockbuster television series on HBO. (The first season of the show was nominated for 13 Emmy awards.) 3 The epic 7-part series that hasn't even been finished (Martin is currently working on the sixth book), but it has already sold more than 25 million copies.
In total, Martin has written almost 2 million words for the series thus far…
And what does Martin use to churn out such an amazing quantity of work?
He writes the novels with a program that most people have never even heard of: WordStar 4.0. To give you an idea of just how ancient this program is, here's a picture of the typical WordStar screen…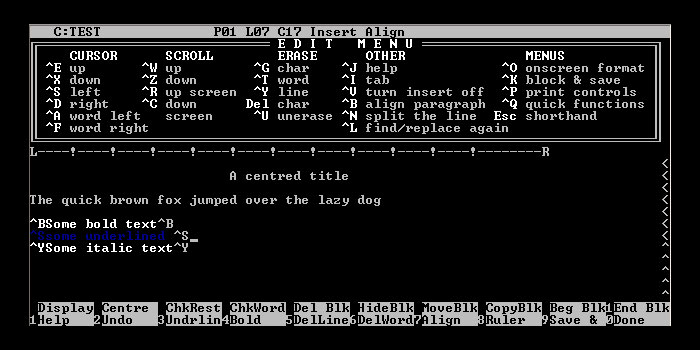 Martin says, "I still do all my writing on an old DOS machine running WordStar 4.0, the Duesenberg of word processing software (very old, but unsurpassed)."
He goes on, "I am not on Facebook. I am not on Twitter. I will not be on the next new thing to come along, the one that makes Facebook and Twitter as obsolete as GEnie and CompuServe and The Source, those halcyon communities of yore." 4
George "WordStar" Martin is selling more books than nearly anyone on the planet and his computer can't even send an email.
Example No. 2: The Minimalist App One Man Designed to Beat Procrastination
In 2009, Fred Stutzman was a graduate student at the University of North Carolina and he was trying to grind out some important work on his thesis.
But there was a problem.
His favorite coffee shop, which had previously been a quiet sanctuary where he could escape distraction and get work done, had just added a new and very dangerous feature.
Wireless internet.
Now Stutzman found himself constantly distracted by the endless supply of entertainment and social media on the web — even if he really wanted to get something done. He tried disconnecting from the internet, but it wasn't that simple. He was always clicking it back on to "take a break." He was constantly fighting the urge to check his messages and updates.
Thankfully, Stutzman happened to be a programmer studying Information Science. When he went home that night, he decided to create a software program that would solve his problem.
The program was simple. You turned the application on, told it how long you wanted to focus, and it prevented your computer from going online for that amount of time. If you wanted to get back on before your time was up, you had to turn your computer completely off and reboot.
The program was called Freedom and not long after Stutzman created it, the application went viral. It was picked up by NPR, The Economist, The New York Times, Oprah Magazine, Time, and nearly every major news outlet you can imagine. More than 500,000 people downloaded it.
The Freedom app that Stutzman designed is effective not only because it prevents you from reaching the web, but also because it eliminates your options and, as a result, doing the right thing becomes much easier. In other words, the application places a constraint on your behavior.
Example No 3: I Removed Every Inessential Thing From My Website
When I built my first website a little over 3 years ago, I had no idea what I was doing.
Naturally, I figured that looking at what other websites and blogs had on their pages would be a good place to start. I started seeing sites with social media buttons, email popups, advertisements, comments, and all sorts of other things. At first glance, these things seemed important. After all, every other website had them and they appeared to serve a purpose.
But as I continued tweaking my site design, I tested what would happen if I eliminated the unessential pieces. I didn't run any advertisements. I took down all of the social media buttons. I eliminated the sidebars, the suggested content, and anything else that wasn't absolutely essential.
As I pulled away each piece, a funny thing happened. People were less distracted. Visitors spent more time reading my articles. More people joined my email list. The simpler things became, the better the results were.
I realized the same thing George R.R. Martin and Fred Stutzman did: Less is more.
So often we think that we need more to be successful. More outside funding for our startup. More software programs or productivity tools to handle our to-do list. More business contacts, a bigger network. More clothes or cars or credit cards.
But the success of these minimalist tactics show us that maybe what we really need is less. Maybe what we really need are fewer distractions and more focus. Maybe what we really need are a few carefully chosen constraints that narrow our energy onto what really matters.
For this reason, minimalism is key to success.
Why You Should Create More and Consume Less
Minimalism is also key to happiness to longevity.
A recent article in the New York Times shared research on longevity that revealed that the people who live the longest not only live healthy lifestyles, but also tend to engage and connect with the people around them.
As a lot of people age, they tend to find themselves consuming more and creating less.
Meanwhile, the people who keep on contributing tend to be the ones who keep on living. The message was clear. People who contribute to their community live longer.
Creating and contributing to the world is not only a foundational piece of living a healthy and happy life, but also a meaningful one.
You can't control the amount of time you spend on this planet, but you can control what you contribute while you're here. These contributions don't have to be major endeavors. Cook a meal instead of buying one. Play a game instead of watching one. Write a paragraph instead of reading one. You don't have to create big contributions, you just need to live out small ones each day.
Time and energy that is wasted consuming is time and energy that can't be spent creating.
Most of the information you come across in your daily life — the news stories, the social media updates, the television shows — isn't going to change the choices you make. Instead of sitting around and consuming whatever is readily available, challenge yourself to make more conscious choices about what you consume and how you consume it.
Do you really need social media apps on your phone? Or will you be just fine checking Facebook and Twitter when you get home?
Is it necessary to turn on the same news program every night? Are you living a better life because of watching it?
If something isn't benefitting you, then eliminate it.
The world doesn't need more people who mindlessly digest whatever information is around. What the world needs are people who learn with purpose, who take action on the things that are important to them, and who seek out high quality information as a way to spark creativity — not as an excuse to consume even more.
How to be a Minimalist
Minimalistic Scheduling
Doing more things does not drive faster or better results. Doing better things drives better results. Even more accurately, doing one thing drives better results.
Mastery requires focus and consistency.
I haven't mastered the art of focus and concentration yet, but I'm working on it. One of the major improvements I've made recently is to assign one (and only one) priority to each work day. Although I plan to complete other tasks during the day, my priority task is the one non-negotiable thing that must get done.
Here's what my current weekly schedule looks like…
Monday – Write article.
Tuesday – Send two emails (one for networking, one for partnerships.)
Wednesday – Write article.
Thursday – Write article.
Friday – Complete weekly review.
Saturday – OFF
Sunday – OFF
The power of choosing one priority is that it naturally guides your behavior by forcing you to organize your life around that responsibility. Your priority becomes an anchor task, the mainstay that holds the rest of your day in place. If things get crazy, there is no debate about what to do or not to do. You have already decided what is urgent and what is important.
Minimalistic Goal Setting
Your odds of success improve when you are forced to direct all of your energy and attention to fewer tasks.
If you want to master a skill—truly master it—you have to be selective with your time. You have to ruthlessly trim away good ideas to make room for great ones. You have to focus on a few essential tasks and ignore the distractions. You have to commit to working through 10 years of silence.
Here's how Warren Buffet recommends people narrow down their goals, as told by Buffett's longtime business partner Charlie Munger…
When Warren lectures at business schools, he says, "I could improve your ultimate financial welfare by giving you a ticket with only 20 slots in it so that you had 20 punches—representing all the investments that you got to make in a lifetime. And once you'd punched through the card, you couldn't make any more investments at all."

He says, "Under those rules, you'd really think carefully about what you did and you'd be forced to load up on what you'd really thought about. So you'd do so much better."

Again, this is a concept that seems perfectly obvious to me. And to Warren it seems perfectly obvious. But this is one of the very few business classes in the U.S. where anybody will be saying so. It just isn't the conventional wisdom.

To me, it's obvious that the winner has to bet very selectively. It's been obvious to me since very early in life. I don't know why it's not obvious to very many other people.
Minimalistic Consumption
Here are some tips for how to control the Diderot Effect and adopt a minimalist's approach to buying and consuming.
Reduce exposure. Nearly every habit is initiated by a trigger or cue. One of the quickest ways to reduce the power of the Diderot Effect is to avoid the habit triggersthat cause it in the first place. Unsubscribe from commercial emails. Call the magazines that send you catalogs and opt out of their mailings. Meet friends at the park rather than the mall. Block your favorite shopping websites using tools like Freedom.
Buy items that fit your current system. You don't have to start from scratch each time you buy something new. When you purchase new clothes, look for items that work well with your current wardrobe. When you upgrade to new electronics, get things that play nicely with your current pieces so you can avoid buying new chargers, adapters, or cables.
Set self-imposed limits. Live a carefully constrained life by creating limitations for you to operate within. Juliet Schor provides a great example with this quote…
"Imagine the following. A community group in your town organizes parents to sign a pledge agreeing to spend no more than $50 on athletic shoes for their children. The staff at your child's day-care center requests a $75 limit on spending for birthday parties. The local school board rallies community support behind a switch to school uniforms. The PTA gets 8o percent of parents to agree to limit their children's television watching to no more than one hour per day.

Do you wish someone in your community or at your children's school would take the lead in these or similar efforts? I think millions of American parents do. Television, shoes, clothes, birthday parties, athletic uniforms-these are areas where many parents feel pressured into allowing their children to consume at a level beyond what they think is best, want to spend, or can comfortably afford."

—Juliet Schor, The Overspent American
Buy One, Give One. Each time you make a new purchase, give something away. Get a new TV? Give your old one away rather than moving it to another room. The idea is to prevent your number of items from growing. Always be curating your life to include only the things that bring you joy and happiness.
Go one month without buying something new. Don't allow yourself to buy any new items for one month. Instead of buying a new lawn mower, rent one from a neighbor. Get your new shirt from the thrift store rather than the department store. The more we restrict ourselves, the more resourceful we become.
Let go of wanting things. There will never be a level where you will be done wanting things. There is always something to upgrade to. Get a new Honda? You can upgrade to a Mercedes. Get a new Mercedes? You can upgrade to a Bentley. Get a new Bentley? You can upgrade to a Ferrari. Get a new Ferrari? Have you thought about buying a private plane? Realize that wanting is just an option your mind provides, not an order you have to follow.
Best Minimalism Books
Want more great minimalism books? Browse my full list of the best self-help books.
All Minimalism Articles
This is a complete list of articles I have written on minimalism and simplicity. Enjoy!

Best Articles on Related Topics