Break Through Your Mental Blocks and Uncover Your Hidden Creative Genius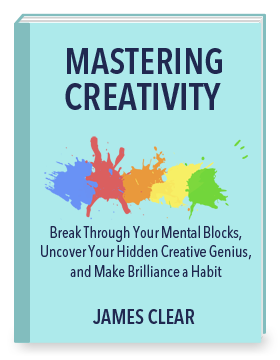 Read this guide and discover the creative strategies of the greatest artists, musicians, and writers in the world—Pablo Picasso, Franz Kafka, Dr. Seuss and many more.
The full guide is packed with 36 pages of information on how creativity works, how to overcome the mental blocks that all artists face, and how to make creative thinking a habit.
For instant access, just enter your email address and click "Get Updates!" You'll get immediate access to the guide, plus you'll receive new articles every Monday and Thursday about boosting your creativity, mastering your habits, and living a good life.
Don't see a signup form? Send me a message here and I'll add you right away.
This page pulls together my most essential information about creativity. I'll share how creativity works, how to find your hidden creative genius, and how to create meaningful work by learning how to make creative thinking a habit. I've tried to present the basics of everything you need to know to start mastering creativity, even if you don't have much time.
You can click the links below to jump to a particular section or simply scroll down to read everything. At the end of this page, you'll find a complete list of all the articles I have written on creativity.
I. Creativity: What It Is and How It Works
II. How to Be More Creative
III. How to Fill Your Life With Creativity and Success

I. Creativity: What It Is and How It Works
What is Creativity?
Let's define creativity.
The creative process is the act of making new connections between old ideas. Thus, we can say creative thinking is the task of recognizing relationships between concepts. Being creative isn't about being the first (or only) person to think of an idea. More often, creativity is about connecting ideas.
Creativity is often thought of as a single event, as a lightbulb or a spark of genius. Throughout this guide, I'll show you how creativity is instead a process and a skill that can be honed and improved.
First, though, let's talk about why you should create.

Why Create? The Health Benefits of Creativity
In 2010, the American Journal of Public Health published a review titled, The Connection Between Art, Healing, and Public Health. You can find it here.
In that article, researchers analyzed more than 100 studies about the impact of art on your health and your ability to heal yourself. The studies included everything from music and writing to dance and the visual arts.
As an example, here are the findings from five visual arts studies mentioned in that review (visual arts includes things like painting, drawing, photography, pottery, and textiles). Each study examined more than 30 patients who were battling chronic illness and cancer.
Here's how the researchers described the impact that visual art activities had on the patients…
"Art filled occupational voids, distracted thoughts of illness"
"Improved well–being by decreasing negative emotions and increasing positive ones"
"Improved medical outcomes, trends toward reduced depression"
"Reductions in stress and anxiety; increases in positive emotions"
"Reductions in distress and negative emotions"
"Improvements in flow and spontaneity, expression of grief, positive identity, and social networks"
I don't know about you, but I think the benefits listed above sound like they would be great not just for patients in hospitals, but for everyone. Who wouldn't want to reduce stress and anxiety, increase positive emotions, and reduce the likelihood of depression?
Furthermore, the benefits of art aren't merely "in your head."
The impact of art, music, and writing can be seen in your physical body as well. In fact, this study published in the Journal of Psychosomatic Medicine used writing as a treatment for HIV patients found that writing resulted in "improvements of CD4+ lymphocyte counts."
That's the fancy way of saying: the act of writing actually impacted the cells inside the patient's body and improved their immune system.
In other words, the creative process doesn't just make you feel better, it also creates real, physical changes inside your body.
At this point, you may be thinking, "That's great, but I'm not a naturally creative person. What about me?"
A lot of people buy into the myth that creativity is innate and cannot be improved or developed.
Debunking the Eureka Moment: Creative Thinking is a Process
Creative thinking requires our brains to make connections between seemingly unrelated ideas. Are creative thinking skills something we are born with, or something that we develop through practice? Let's look at the research to uncover an answer.
In the 1960s, a creative performance researcher named George Land conducted a study of 1,600 five-year-olds and 98 percent of the children scored in the "highly creative" range. Dr. Land re-tested each subject during five-year increments. When the same children were 10-years-old, only 30 percent scored in the highly creative range. This number dropped to 12 percent by age 15 and just 2 percent by age 25. As the children grew into adults they effectively had the creativity trained out of them. In the words of Dr. Land, "non-creative behavior is learned." 1
Similar trends have been discovered by other researchers. For example, one study of 272,599 students found that although IQ scores have risen since 1990, creative thinking scores have decreased. 2
This is not to say that creativity is 100 percent learned. Genetics do play a role. According to psychology professor Barbara Kerr, "approximately 22 percent of the variance [in creativity] is due to the influence of genes." This discovery was made by studying the differences in creative thinking between sets of twins. 3
All of this to say, claiming that "I'm just not the creative type" is a pretty weak excuse for avoiding creative thinking. Certainly, some people are primed to be more creative than others. However, nearly every person is born with some level of creative skill and the majority of our creative thinking abilities are trainable.
Before we talk about how to be more creative, let's pause for just a second. If you're enjoying this article on creativity, then you'll probably find my other writing on performance and human behavior useful. Each week, I share self-improvement tips based on proven scientific research through my free email newsletter.
To join now, just enter your email address below and click "Get Updates!"
Don't see a signup form? Send me a message here and I'll add you right away.
II. How to Be More Creative
How Long Does it Take to Master Creativity?
There is an interesting story about how Pablo Picasso, the famous Spanish artist, developed the ability to produce remarkable work in just minutes.
As the story goes, Picasso was walking though the market one day when a woman spotted him. She stopped the artist, pulled out a piece of paper and said, "Mr. Picasso, I am a fan of your work. Please, could you do a little drawing for me?"
Picasso smiled and quickly drew a small, but beautiful piece of art on the paper. Then, he handed the paper back to her saying, "That will be one million dollars."
"But Mr. Picasso," the woman said. "It only took you thirty seconds to draw this little masterpiece."
"My good woman," Picasso said, "It took me thirty years to draw that masterpiece in thirty seconds." 4
Picasso isn't the only brilliant creative who worked for decades to master his craft. His journey is typical of many creative geniuses. Even people of considerable talent rarely produce incredible work before decades of practice.
Let's talk about why that is, and even more important, how you can reveal your own creative genius.
The Age of Most Nobel Prize Winners
A recent study tracked the ages of Nobel Prize winners, great inventors, and scientists. As you can see in the graph below, the researchers found that most groundbreaking work peaked during the late thirties — at least a full decade into any individual career. Even in the fields of science and math, creative breakthroughs often require ten years or more or work.5
These findings match the work done by previous researchers as well.
For example, a study conducted at Carnegie Mellon University by cognitive psychology professor John Hayes found that out of 500 famous musical pieces, nearly all of them were created after year 10 of the composer's career. In later studies, Hayes found similar patterns with poets and painters. He began referring to this period hard work and little recognition as the "ten years of silence."
Whether you are a composer or a scientist, creativity is not a quality you are born with or without. It is something that is discovered, honed, and improved through real work.
Which brings us to an important question: How can you do your best work and discover your hidden creative genius?

Why It's Necessary to Create Junk
People tend to look at successful writers, writers who are getting books published and maybe even doing well financially, and think that they sit down at their desks every morning feeling like a million dollars, feeling great about who they are and how much talent they have and what a great story they have to tell; that they take a few deep breaths, push back their sleeves, roll their necks a few times to get all the cricks out, and dive in, typing fully formed passages as fast as a court reporter. But this is just fantasy of the uninitiated. I know some very great writers, writers you love who write beautifully and have made a great deal of money, and not one of them sits down routinely feeling wildly enthusiastic and confident. Not one of them writes elegant first drafts… For me and most other writers I know, writing is not rapturous. If fact, the only way I can get anything written at all is to write really, really shitty first drafts.
—Anne Lamott, Bird by Bird
Uncover Your Hidden Creative Genius
In any creative endeavor you have to give yourself permission to create junk. There is no way around it. Sometimes you have to write 4 terrible pages just to discover that you wrote one good sentence in the second paragraph of the third page.
Creating something useful and compelling is like being a gold miner. You have to sift through pounds of dirt and rock and silt just to find a speck of gold in the middle of it all. Bits and pieces of genius will find their way to you, if you give yourself permission to let the muse flow.

The Difference Between Amateurs and Professionals
Inspiration is for amateurs. The rest of us just show up and get to work.
—Chuck Close
Amateurs create when they feel inspired. Professionals create on a schedule.
William James, the famous psychologist, is noted for saying that habits and schedules are important because they "free our minds to advance to really interesting fields of action."
An article in The Guardian agreed by saying, "If you waste resources trying to decide when or where to work, you'll impede your capacity to do the work." And there are plenty of research studies on willpower and motivation to back up that statement.
No single act will uncover more creative genius than forcing yourself to create consistently. Practicing your craft over and over is the only way to become decent at it. The person who sits around theorizing about what a best-selling book looks like will never write it. Meanwhile, the writer who shows up every day and puts their butt in the chair and their hands on the keyboard — they are learning how to do the work.
Ira Glass is the host of the popular radio show This American Life, which is broadcast to 1.7 million listeners each week. This is the advice Glass gives to anyone looking to interesting, creative work: "The most important thing you can do is do a lot of work. Do a huge volume of work. Put yourself on a deadline so that every week or every month you know you're going to finish one story. It is only by going through a volume of work that … the work you're making will be as good as your ambitions."
If you want to do your best creative work, then don't leave it up to choice. Don't wake up in the morning and think, "I hope I feel inspired to create something today." You need to take the decision-making out of it. Set a schedule for your work. Genius arrives when you show up enough times to get the average ideas out of the way.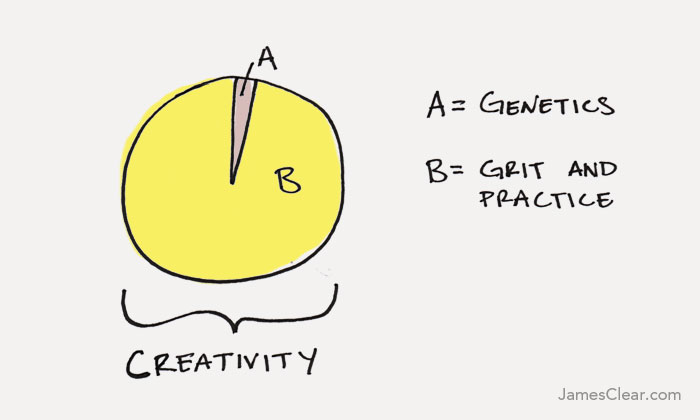 The Importance of Finishing Your First Creative Project
Steven Pressfield's most famous work, The Legend of Bagger Vance, was a best-selling novel that became a major motion picture starring Matt Damon, Will Smith, and Charlize Theron. But if you ask Pressfield, he will say that his most important book is one that you never heard of: the first book he finished.
Here's how Pressfield describes finishing his first novel…
I never did find a buyer for the book. Or the next one, either. It was ten years before I got the first check for something I had written and ten more before a novel, The Legend of Bagger Vance, was actually published. But that moment when I first hit the keys to spell out THE END was so epochal. I remember rolling the last page out and adding it to the stack that was the finished manuscript. Nobody knew I was done. Nobody cared. But I knew. I felt like a dragon I'd been fighting all my life had just dropped dead at my feet and gasped out its last sulfuric breath." 6
Finish something. Anything. Stop researching, planning, and preparing to do the work and just do the work. It doesn't matter how good or how bad it is. You don't need to set the world on fire with your first try. You just need to prove to yourself that you have what it takes to produce something.
There are no artists, athletes, entrepreneurs, or scientists who became great by half-finishing their work. Stop debating what you should make and just make something.

The Danger of Judging Your Own Work
When I write, I feel like an armless legless man with a crayon in my mouth.
—Kurt Vonnegut
Everyone struggles to create great art. Even great artists.
Anyone who creates something on a consistent basis will begin to judge their own work. I write new articles every Monday and Thursday. After sticking to that publishing schedule for three months, I began to judge everything I created. I was convinced that I had gone through every decent idea I had available. My most popular article came 8 months later.
It is natural to judge your work. It is natural to feel disappointed that your creation isn't as wonderful as you hoped it would be, or that you're not getting any better at your craft. But the key is to not let your discontent prevent you from continuing to do the work.
You have to practice enough self-compassion to not let self-judgement take over. Sure, you care about your work, but don't get so serious about it that you can't laugh off your mistakes and continue to produce the thing you love. Don't let judgment prevent delivery.

How to Hold Yourself Accountable and Create Your Best Work
When it comes to ideas, most people overestimate the risk of piracy, and underestimate the price of obscurity.
—Mike Trap
Share your work publicly. It will hold you accountable to creating your best work. It will provide feedback for doing better work. And when you see others connect with what you create, it will inspire you and make you care more.
Sometimes sharing your work means you have to deal with haters and critics. But more often than not, the only thing that happens is that you rally the people who believe the same things you believe, are excited about the same things you are excited about, or who support the work that you believe in — who wouldn't want that? 7
The world needs people who put creative work out into the world. What seems simple to you is often brilliant to someone else. But you'll never know that unless you choose to share.
How to Find Your Creative Genius
Finding your creative genius is easy: do the work, finish something, get feedback, find ways to improve, show up again tomorrow. Repeat for ten years. Or twenty. Or thirty.
Inspiration only reveals itself after perspiration.
III. How to Fill Your Life with Creativity and Success
How to Make Creative Thinking a Habit
If you want to add more creative thinking to your life, you need to understand how to transform your habits and create long-term behavior change. Here's a step-by-step guide for building habits that will last a lifetime.
1. Start with an incredibly small habit.
When most people struggle to stick with a new habit, they say something like, "I just need more motivation." Or, "I wish I had as much willpower as you do." 
This is the wrong approach. Research shows that willpower is like a muscle. It gets fatigued as you use it throughout the day. Another way to think of this is that your motivation ebbs and flows. It rises and falls. Stanford professor BJ Fogg calls this the "motivation wave."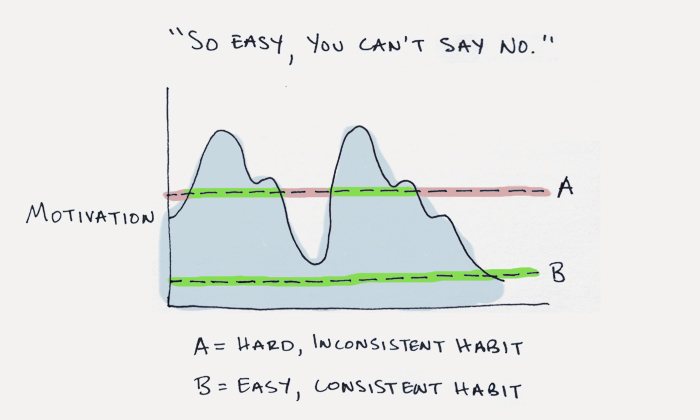 Solve this problem by picking a new habit that is easy enough that you don't need motivation to do it. Rather than trying to write an entire chapter of your novel in one day, focus on writing just one page. Make it easy enough that you can get it done without motivation. 
2. Increase your habit in very small ways.
One percent improvements add up surprisingly fast. So do one percent declines. 
Rather than trying to do something amazing from the beginning, start small and gradually improve. Along the way, your willpower and motivation will increase, which will make it easier to stick to your habit for good. 
3. As you build up, break habits into chunks.
If you continue adding one percent each day, then you'll find yourself increasing very quickly within two or three months. It is important to keep each habit reasonable, so that you can maintain momentum and make the behavior as easy as possible to accomplish.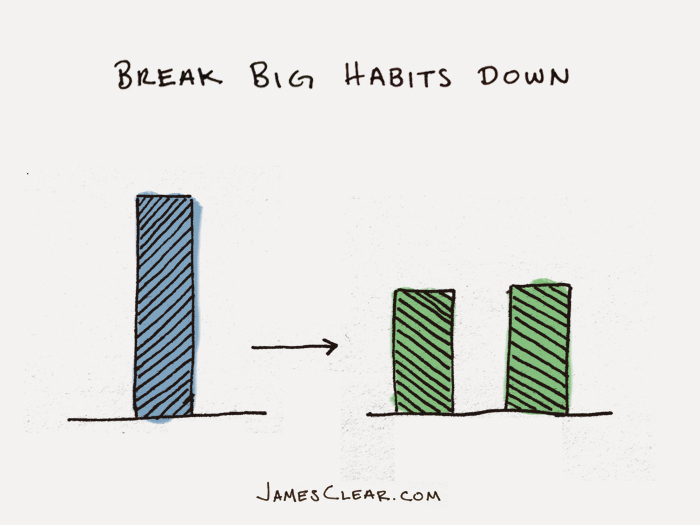 Building up to writing 1,000 words per day? Split up your writing time into four chunks in which you focus on writing 250 words. 
4. When you slip, get back on track quickly.
Top performers make mistakes, commit errors, and get off track just like everyone else. The difference is that they get back on track as quickly as possible.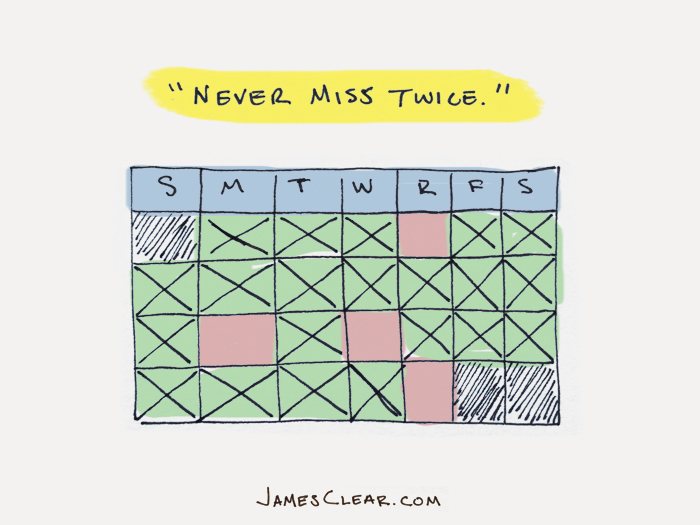 Research has shown that missing your habit once, no matter when it occurs, has no measurable impact on your long-term progress. Rather than trying to be perfect, abandon your all-or-nothing mentality. 
You shouldn't expect to fail, but you should plan for failure. Take some time to consider what will prevent your habit from happening. What are some things that are likely to get in your way? What are some daily emergencies that are likely to pull you off course? How can you plan to work around these issues? Or, at least, how you can bounce back quickly from them and get back on track? 
5. Be patient. Stick to a pace you can sustain.
Learning to be patient is perhaps the most critical skill of all. You can make incredible progress if you are consistent and patient.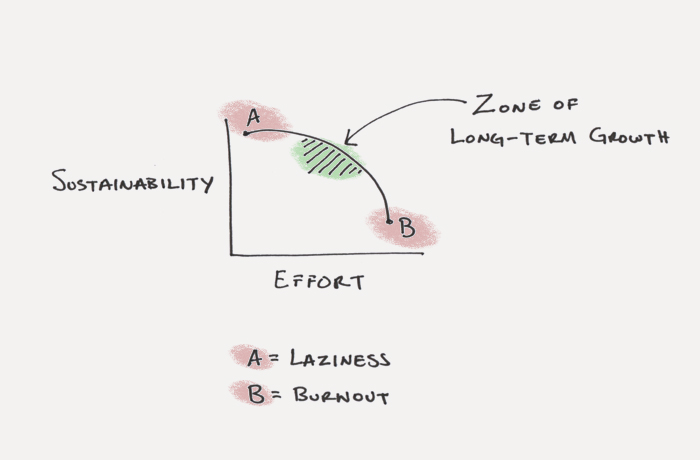 Patience is everything. Do things you can sustain. 
New habits should feel easy, especially in the beginning. If you stay consistent and continue increasing your habit it will get hard enough, fast enough. It always does.8
Creativity in the Long-Term: The Proven Path to Doing Unique and Meaningful Work
If you've read everything up to this point, you know the importance of creativity, how to be more creative, and how to make creative thinking a habit. Once you are deep inside your work or your industry, though, you'll face some new challenges.
How do you know if you've chosen the right path? How do you know when to keep going, or when to try something new? How do you become one of the very best?
Let's talk about those things now. But first, a story…
In June of 2004, Arno Rafael Minkkinen stepped up to the microphone at the New England School of Photography to deliver the commencement speech.
As he looked out at the graduating students, Minkkinen shared a simple theory that, in his estimation, made all the difference between success and failure. He called it The Helsinki Bus Station Theory.
The Helsinki Bus Station Theory
Minkkinen was born in Helsinki, Finland. In the center of the city there was a large bus station and he began his speech by describing it to the students.
"Some two-dozen platforms are laid out in a square at the heart of the city," Minkkinen said. "At the head of each platform is a sign posting the numbers of the buses that leave from that particular platform. The bus numbers might read as follows: 21, 71, 58, 33, and 19. Each bus takes the same route out of the city for at least a kilometer, stopping at bus stop intervals along the way." 9
He continued, "Now let's say, again metaphorically speaking, that each bus stop represents one year in the life of a photographer. Meaning the third bus stop would represent three years of photographic activity. Ok, so you have been working for three years making platinum studies of nudes. Call it bus #21."
"You take those three years of work to the Museum of Fine Arts in Boston and the curator asks if you are familiar with the nudes of Irving Penn. His bus, 71, was on the same line. Or you take them to a gallery in Paris and are reminded to check out Bill Brandt, bus 58, and so on. Shocked, you realize that what you have been doing for three years others have already done." 10
"So you hop off the bus, grab a cab—because life is short—and head straight back to the bus station looking for another platform."
"This time," he said, "you are going to make 8×10 view camera color snapshots of people lying on the beach from a cherry picker crane. You spend three years at it and three grand and produce a series of works that elicit the same comment. Haven't you seen the work of Richard Misrach? Or, if they are steamy black and white 8x10s of palm trees swaying off a beachfront, haven't you seen the work of Sally Mann?"
"So once again, you get off the bus, grab the cab, race back and find a new platform. This goes on all your creative life, always showing new work, always being compared to others."
"Stay on the F**king Bus"
Minkkinen paused. He looked out at the students and asked, "What to do?"
"It's simple," he said. "Stay on the bus. Stay on the f**king bus. Because if you do, in time, you will begin to see a difference."
"The buses that move out of Helsinki stay on the same line, but only for a while—maybe a kilometer or two. Then they begin to separate, each number heading off to its own unique destination. Bus 33 suddenly goes north. Bus 19 southwest. For a time maybe 21 and 71 dovetail one another, but soon they split off as well. Irving Penn is headed elsewhere."
"It's the separation that makes all the difference," Minkkinen said. "And once you start to see that difference in your work from the work you so admire—that's why you chose that platform after all—it's time to look for your breakthrough. Suddenly your work starts to get noticed. Now you are working more on your own, making more of the difference between your work and what influenced it. Your vision takes off. And as the years mount up and your work begins to pile up, it won't be long before the critics become very intrigued, not just by what separates your work from a Sally Mann or a Ralph Gibson, but by what you did when you first got started!"
"You regain the whole bus route in fact. The vintage prints made twenty years ago are suddenly re-evaluated and, for what it is worth, start selling at a premium. At the end of the line—where the bus comes to rest and the driver can get out for a smoke or, better yet, a cup of coffee—that's when the work is done. It could be the end of your career as an artist or the end of your life for that matter, but your total output is now all there before you, the early (so-called) imitations, the breakthroughs, the peaks and valleys, the closing masterpieces, all with the stamp of your unique vision."
"Why? Because you stayed on the bus."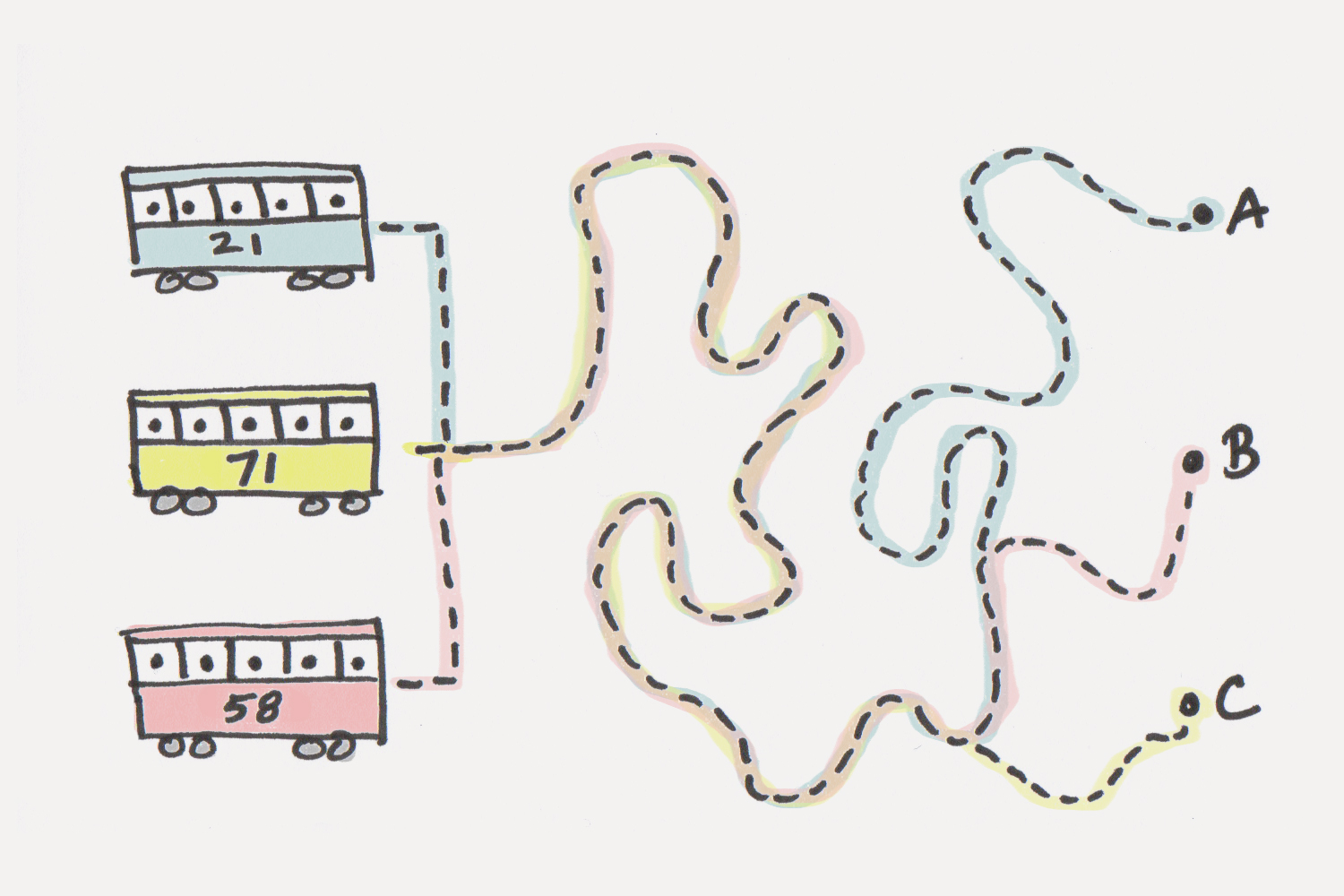 Does Consistency Lead to Success?
I write frequently about how mastery requires consistency. That includes ideas like putting in your reps, improving your average speed, and falling in love with boredom. These ideas are critical, but The Helsinki Bus Station Theory helps to clarify and distinguish some important details that often get overlooked.
Does consistency lead to success?
Consider a college student. They have likely spent more than 10,000 hours in a classroom by this point in their life. Are they an expert at learning every piece of information thrown at them? Not at all. Most of what we hear in class is forgotten shortly thereafter.
Consider someone who works on a computer each day at work. If you've been in your job for years, it is very likely that you have spent more than 10,000 hours writing and responding to emails. Given all of this writing, do you have the skills to write the next great novel? Probably not.
Consider the average person who goes to the gym each week. Many folks have been doing this for years or even decades. Are they built like elite athletes? Do they possess elite level strength? Unlikely.
The key feature of The Helsinki Bus Station Theory is that it urges you to not simply do more work, but to do more re-work.
It's Not the Work, It's the Re-Work
Average college students learn ideas once. The best college students re-learn ideas over and over. Average employees write emails once. Elite novelists re-write chapters again and again. Average fitness enthusiasts mindlessly follow the same workout routine each week. The best athletes actively critique each repetition and constantly improve their technique. It is the revision that matters most. 11
To continue the bus metaphor, the photographers who get off the bus after a few stops and then hop on a new bus line are still doing work the whole time. They are putting in their 10,000 hours. What they are not doing, however, is re-work. They are so busy jumping from line to line in the hopes of finding a route nobody has ridden before that they don't invest the time to re-work their old ideas. And this, as The Helsinki Bus Station Theory makes clear, is the key to producing something unique and wonderful. 12
By staying on the bus, you give yourself time to re-work and revise until you produce something unique, inspiring, and great. It's only by staying on board that mastery reveals itself. Show up enough times to get the average ideas out of the way and every now and then genius will reveal itself.
Malcolm Gladwell's book Outliers popularized The 10,000 Hour Rule, which states that it takes 10,000 hours of deliberate practice to become an expert in a particular field. I think what we often miss is that deliberate practice is revision. If you're not paying close enough attention to revise, then you're not being deliberate.
A lot of people put in 10,000 hours. Very few people put in 10,000 hours of revision. The only way to do that is to stay on the bus.
Which Bus Will You Ride?
We are all creators in some capacity. The manager who fights for a new initiative. The accountant who creates a faster process for managing tax returns. The nurse who thinks up a better way of managing her patients. And, of course, the writer, the designer, the painter, and the musician laboring to share their work out to the world. They are all creators.
Any creator who tries to move society forward will experience failure. Too often, we respond to these failures by calling a cab and getting on another bus line. Maybe the ride will be smoother over there.
Instead, we should stay on the bus and commit to the hard work of revisiting, rethinking, and revising our ideas.
In order to do that, however, you must answer the toughest decision of all. Which bus will you ride? What story do you want to tell with your life? What craft do you want to spend your years revising and improving?
How do you know the right answer? You don't. Nobody knows the best bus, but if you want to fulfill your potential you must choose one. This is one of the central tensions of life. It's your choice, but you must choose.
And once you do, stay on the bus.
Best Creativity Books
Want more great books on creativity and business? Browse my full list of the best business books.
All Creativity Articles
This is a complete list of articles I have written on creativity. Enjoy!

Best Articles on Related Topics
Footnotes
Breakpoint and Beyond: Mastering the Future Today by George Land and Beth Jarman (1992).

The Creativity Crisis: The Decrease in Creative Thinking Scores on the Torrance Tests of Creative Thinking. Creativity Research Journal, Volume 23, Issue 4, 2011.

Encyclopedia of Giftedness, Creativity, and Talent By Barbara Kerr

I couldn't find the original source for this Picasso story and I'm not sure if it's true. The point remains just as strong and compelling either way, but if you know the original source please share.

Working paper from the National Bureau of Economic Research, which can be read here.

Quote from The War of Art. You'll also notice that it took Pressfield nearly 20 years before he published The Legend of Bagger Vance. He put in his ten years of silence, just like every other great artist.

If you look for it, you will also find a huge hidden benefit of sharing your work publicly: the gut reaction. Whenever you share something with someone else — a business idea, an article you wrote, a painting, a picture — there will be a split second when they first process your work that you get their true response. In my experience, you will either have genuine excitement (which is an indication that you are onto something good) or any other emotion (which is an indication that it's average at best).

Special thanks to BJ Fogg, Leo Babauta, and Kelly McGonigal for their research and work on habit formation and willpower. I have learned a lot from each of you.

This article shares a shortened version of Mikkinen's speech. I originally read the full commencement speech here.

Minkkinen faced challenges similar to these in his own career. During his early years, he struggled to separate his photographic style from contemporaries like Ralph Gibson.

I owe a debt of thanks to Venkatesh Rao and his fantastic post on grit, which is where I originally came across the idea of re-work being more important than more work. I'm basically just repeating his logic here.

Let's be clear, showing up matters. It's better to go to class than to skip the lecture. It's better to respond to your emails than to not write them. It's better to go to the gym than to avoid working out. But for top performers the key is re-work, not simply more work.