Learn how to master your habits and make consistent progress…
Have you ever wondered what makes the difference between successful people and unsuccessful ones?
It isn't always raw intelligence or genetic talent or even access to money or resources. It isn't that one person wants success and the other doesn't.
The difference is hidden inside thousands of daily actions.
The difference is in your habits.
If you can master your habits, you can master your life. Even a tiny 1 percent improvement each day can add up very fast.
Just look at the math…
It's so easy to overestimate the importance of one defining moment and underestimate the value of making better decisions on a daily basis. Our lives are shaped by small choices and tiny habits. The people who master these small choices are the people who succeed.
Success is a few simple disciplines, practiced every day;
while failure is simply a few errors in judgment, repeated every day.
—Jim Rohn
Introducing the Habits Workshop, a step-by-step class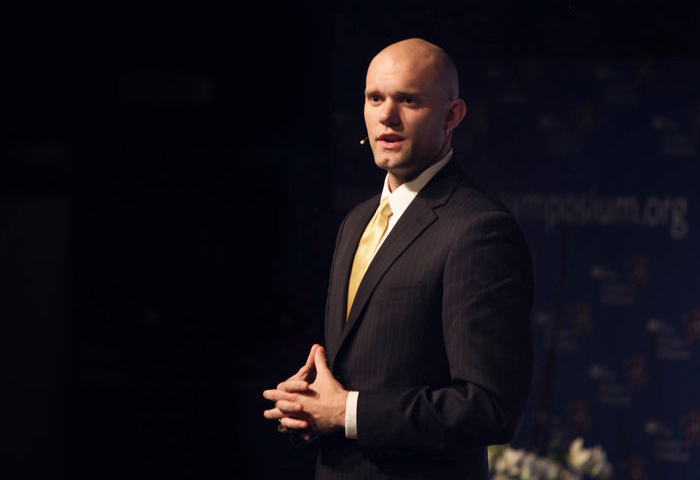 Hi, I'm James Clear and I created the best-selling Habits Workshop.
My writing is read by more than 3 million people each year and my work has been featured by Entrepreneur Magazine, The Huffington Post, Fast Company, Forbes, Inc., US News & World Report, and many other media outlets.
I created the Habits Workshop because I believe that mastering your habits is at the core of living healthier, happier, and better. Inside the workshop you'll learn simple strategies for mastering willpower, motivation, and the science of behavior change — without working all day, every day.
This step–by–step class is designed to give you exactly the information you need without all of the overwhelming and unnecessary details so that you can take action, stop searching for ideas, and start building good habits today.
How Habits Stick
I've learned a lot about building better habits over the last few years.
I went from writing inconsistently for years to publishing a new article every Monday and Thursday without fail (119 posts in a row so far).
I went from working out on a "yo-yo cycle" (two months on, three months off, three months on, etc.) to never missing a workout for an entire year.
As an entrepreneur, I went from randomly doing important business tasks "whenever I had time" to building a sales and marketing process that delivered every week.
And I've added a ton of small habits too: watching less TV, flossing twice per day, drinking more than 8 glasses of water per day, dressing better on a more consistent basis, tracking monthly expenses, eating more vegetables and less bread, and so on.
Moral of the story: this class will be grounded in science, but broken down into simple, easy-to-use steps for real life (many of which I've learned and applied through my own experiences).
What Topics Will the Habits Workshop Cover?
There are 3 main problems we will address in this workshop:
1. How do I get started? (How do I stop procrastinating?)
If you think about it, habits are simply a continual exercise in getting started. If you develop a system to "take the first step" each day or each week, then oftentimes the rest of the process will fall into place.
Easier said than done, of course.
In the Habits Workshop, I'm going to cover at least a dozen strategies that will make it easier for you to get started on the habits that are important to you. In other words, we will cover how to take action not just once, but over and over again.
2. I don't have enough time. (How can I fit new habits into my busy schedule?)
We all have busy lives and responsibilities that we need to handle. But that doesn't mean you can't make progress or fulfill your potential.
In this workshop, we'll cover strategies for 1) avoiding the overwhelm that so often cripples us when we get really busy and 2) incrementally adding slow, consistent gains to make a lot of progress without a much time.
3. I have trouble staying consistent. (How can I build up the discipline and willpower to never stop?)
Most people can get started once or twice. It's doing it over and over again that is really difficult.
In this workshop, I'm going to share every strategy I know for building habits that actually stick. We are going to cover the science of motivation and willpower: how it works, how to get more of it, and how to design your life so that you make the right decisions even when you don't feel like it.
Of course, those are just the highlights.
Here are ten more things you'll learn during the event…
10 More Things You'll Learn in This Class
How to stop obsessing over goals and outcomes and embrace consistent improvement instead.
How to make time for new habits (even when your life gets crazy).
The science of how your brain processes habits.
How to finally turn the corner and stick to a new habit for good.
How to overcome a lack of motivation and willpower.
Common mistakes most people make when starting new habits (and how to avoid them).
How to design your environment to make success easier.
How to make big changes in your life without overwhelming yourself.
How to get back on track when you get off course with your goals.
And most importantly, how to put these ideas into practice in real life.
Class Details: What Will You Get?
Here's what your class will include:
Full Habits Workshop Video (1 hour 42 minutes of class time)
Extended Question and Answer audio session (1 hour 4 minutes of the most common habits questions answered directly for you)
Video downloads
Audio downloads
Text transcripts of all video and audio files
Slide presentation downloads
Plus, over 10 additional resources (books, exercises, free courses, and more)
How will you watch it? Immediately after purchasing, you'll be sent a private link where you can play, pause, rewind, and download the workshop whenever you wish. You could literally be watching the workshop 5 minutes from now.
Plus, a Special Bonus…
If you register for the class today you'll not only get full access to the class materials, but also some special bonus material.
You'll get an inside look at the habits of famous athletes, artists, and leaders. A series of articles covering the habits of these top performers will be immediately available for you to review.
Learn about the writing habits of Maya Angelou, Ernest Hemingway, and Franz Kafka.
Discover the daily practice strategies of comedian Jerry Seinfeld.
Learn about the deliberate practice techniques that helped Mozart and Picasso become geniuses in their fields.
And more…
These habit "cheat sheets" are stocked full of practical ideas and lessons learned from studying the true masters of habit from art, business, and sports.
Ready to join? Sign up and claim your spot in the Habits Workshop class below.
Enroll Today
Your purchase includes…
Full access to the Habits Workshop. This 1 hour 42 minute class is filled with practical, down-to-earth ideas for transforming your habits and changing your behavior for the long-term. Learn how to use behavioral psychology to win your daily battles and capture the 1 percent gains that are everywhere in your life. If you can master your habits, you can master your life.
Extended Question and Answer audio session. During 1 hour and 4 minutes, you'll get answers to the most common questions about building good habits and breaking bad ones. This sessions will help you avoid the mistakes most people make when building new habits and answer highly practical questions about implementing new habits into your daily routine. We go beyond the theory and talk about what it takes to make change in the real world.
Free video downloads. All videos in the course are immediately available for you to download in .MP4 format, so that you can watch them on any device at any time you choose.
Free audio downloads. Every video has an accompanying audio version that you can download in .MP3 format. If you're on the run, or if you just prefer to listen rather than watch, you can take this workshop with you anywhere.
Free text transcripts of all video and audio files. Both the Habits Workshop and the question and answer session are fully transcribed for you to download and read in .PDF format. Of course, if you'd like to listen and follow along by reading the text transcription, you can do that too.
Free downloads of the slide presentations. Over 80 slides, charts, and graphs covering the science of habit formation, the research on motivation and willpower, and the newest strategies on maximizing energy and productivity are available for immediate download as soon as you join. You'll have access to every slide taught throughout the workshop as a .PDF download.
Plus, over 10 additional resources (books, exercises, free courses, and more). You'll get a reading list of the best books on habit formation and willpower, plus access to some of the top habit courses for free. You'll also learn exercises you can use to immediately boost willpower, motivation, and energy as well as articles with additional information on habit formation.
And, the Habits "Cheat Sheet" bonus articles. Finally, you'll get a hand-picked selection of stories, articles, and interviews that cover the habits of many of the world's greatest athletes, artists, writers, and leaders. Learn about the training strategies of football Hall-of-Famer Jerry Rice or the writing strategies of legendary writer Franz Kafka or the practice methods of Picasso … among dozens of others.
Join now and get full access to all of these course materials.
The World's Greatest Guarantee
You can breathe easy with this purchase. Everything I create is backed by a satisfaction and effectiveness guarantee. This class is unconditionally guaranteed for an entire year. All you have to do is try it out for at least 30 days (which is enough to take the entire class), let me know if it hasn't served you well, and I'll promptly refund your money.
Plain and simple: This class will help you or it's free.
All you have to do is try out the material. Should the class not measure up to your expectations, you can request a full refund anytime for a full year. No questions asked.
Try How Habits Work now.
P.S.
Imagine where great habits could take you over the next year. (Or the next five years?)
Learning how your habits work and how to improve them may well be the best small investment you could make.
The Habits Workshop is filled with practical, down-to-earth ideas for transforming your habits and changing your behavior for the long-term. Learn how to use behavioral psychology to win your daily battles and capture the 1 percent gains that are everywhere in your life. If you can master your habits, you can master your life.
Sign up today and receive immediate access to the full workshop.
You'll be using the simple, practical strategies from the Habits Workshop in no time.
Testimonials
Still not convinced? Read what other people are saying about my work. (These are all unsolicited testimonials that come from real readers and customers.)
STUDENT TESTIMONIAL
I went through the Habits Workshop again. It is such a gold mine! I get richer and richer every time I go through it. Seriously life-changing.
—Yvonne W. from Baltimore, MD

Feedback on the Habits Workshop: LOVED IT! Totally worth the time and money. You did a bang-up job. Thanks!
—Debbie O. from Boston, MA

Your habits workshop changed my life completely, James. My core habit was changing my eating habits and everything else followed when I have changed that. Thank you for the techniques and your consistent work on habits. I am a big fan.
—Deniz T. from Ankara, Turkey

Our net profit has doubled in the last year since I started reading your articles. I give all my staff a paid half hour off twice a week to read your work. Thank you!
—Paul D. from Auckland, New Zealand

Your articles are by far the best I've found on the internet. I've actually unsubscribed from most others now (some can be very repetitive), but I really enjoy your varied subjects. Keep up the good work.
—Martin H. from Bristol, United Kingdom

Thanks to your motivating newsletters I started doing 1 pushup/day two months ago, added 1 more each week and now I can do 10/day! (Even better, my 8-year-old daughter has been doing them with me!)
—Kimberly D.

As a small business owner I like to know when I hit the mark (which is less often than I'd like). You hit it out on a regular basis. Kudos. As a single mom with 2 kids, 2 dogs, and 43 employees I always appreciate some James Clear and a glass of vino after a long day. Keep up the great work.
—Carrie K. from Dallas, Texas

I just want you to know, James, that you have inspired and encouraged me to think about my habits and training in a completely different way (a much better way!). Thank you for reminding me that 1 percent can make a difference!
—Holly S. from Salt Lake City, Utah

I've been online since 1995. With thousands of newsletters available, I only subscribe to one. Yours. That's how much I enjoy your topics and writing style. You definitely add value with each email that comes my way. Keep up the great work.
—Thales P. from Nicosia, Cyprus

Thanks for your writing and your ideas. There's a ton of self–help stuff out there and not much of it is as clear and actionable as yours.
—Jennifer M. from Oregon

Knowing you really has changed my life!
—Mirabai G. from Philadelphia, Pennsylvania
Like what they have to say?
Click here to buy the Habits Workshop right now. I'll see you on the inside.